A tear-jerking message from a devoted BTS fan, in response to the news of SUGA's enlistment, has touched the hearts of many, evoking tears and emotions among fans worldwide.
Two days ago, Big Hit Music announced on Weverse that SUGA will fulfill his military duties beginning on September 22. According to the statement, no special event will be held on his enlistment day or the day he enters training camp.
With the news rippling across different online platforms, fans worldwide responded to the message, sharing heartfelt wishes for SUGA's safe return, while expressing their unswerving support for him during this period.
A particular message from one devoted fan battling cancer moved the hearts of ARMYs worldwide.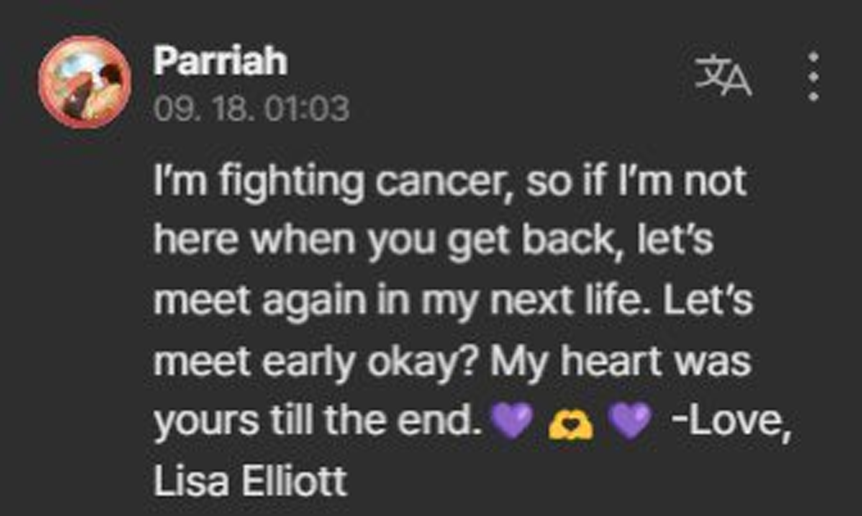 One fan wrote, "I'm fighting cancer, so if I'm not here when you get back, let's meet again in my next life. Let's meet early okay? My heart was yours till the end. – Love, Lisa Elliott."
This message was translated into Korean and also shared with Korean fans on online communities.
They commented, "This is so sad," "I wish she can reunite with him in 2025," "Overseas fans are showing support for her too…I hope she gets to see him for a long time," "Oh my I started tearing up as soon as I read it," "This is so painful," "I really hope she can overcome cancer," "The last sentence is really crazy sad," "This is so sad. I hope she gets cured and gets to see her beloved singer for a long time," "Noo…You have to go to his dinner shows," "This is so sad…Yoongi said let's meet again in 2025," "This is making me cry. I hope there is a miracle and she gets cured," "Please be with us in 2025!" and "I pray for her full recovery."